Dollhouse Cradle
This dollhouse cradle is intricately cut giving it a "lace like" appearance, yet being made of Baltic Birch it is quite strong.
It is built to 1/24 scale making it about 2-3/16" long by1-1/4" wide across the top rails.
It would be great in a dollhouse nursery, or used as a Christmas ornament.
This cradle can be shipped assembled, or in kit form.
please e-mail me with any questions.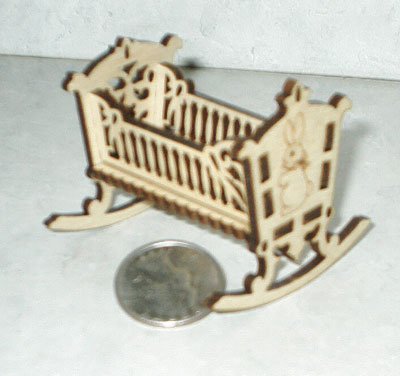 Scale = 1/24
(quarters in the photos are for scale.)

Click to enlarge photos:
The color in some of these photos has been changed to bring out the bunny etched on to the solid end of the cradle.
The main photo is the most accurate rendering of the true wood color.